Key attractions in Nouméa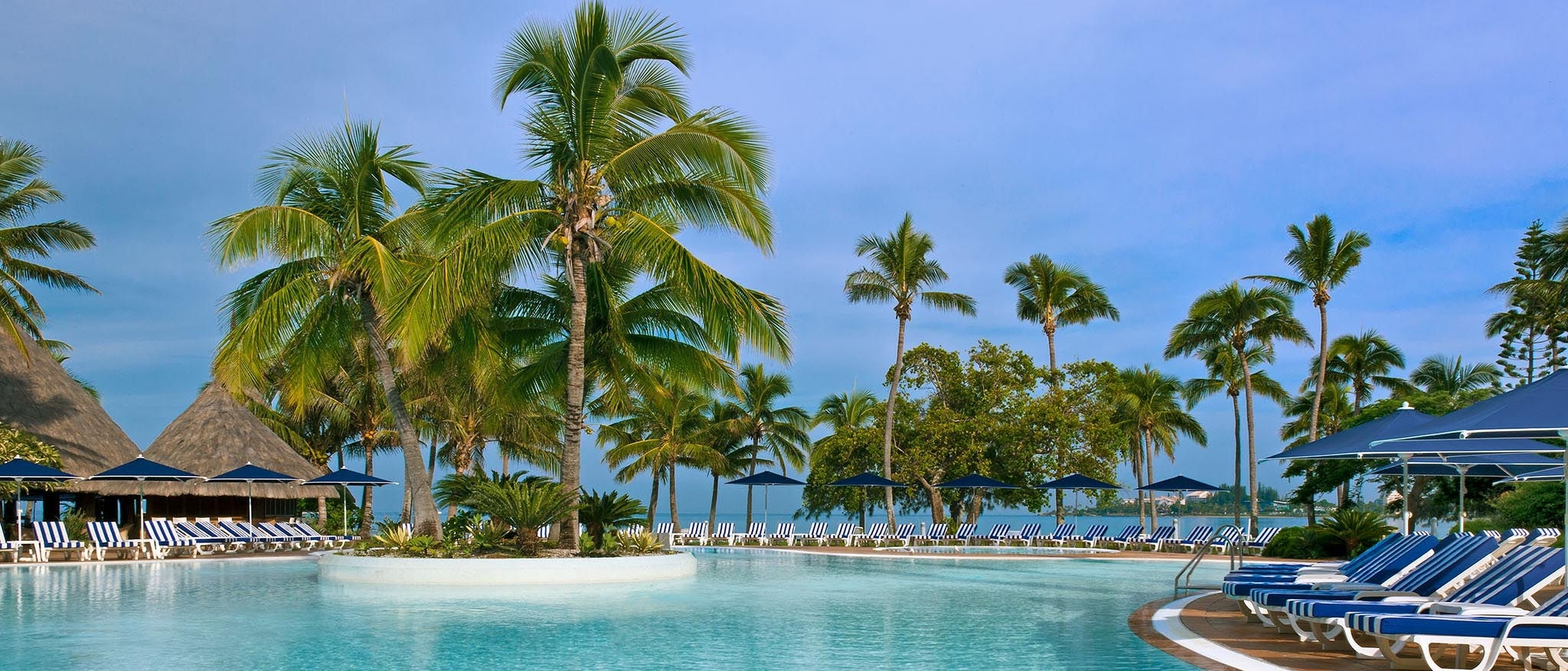 Vibrant neighbourhood, beautiful bays, various museums... Nouméa offers many activities to visitors wishing to enjoy themselves, to learn or to relax.
Savour the culinary experience of every meal. Foie gras, soft cheeses, real "café au lait", fresh baked "viennoiseries" and baguettes each day – a gourmet tour de France is on your doorstep, wherever you dine.
CITY CENTER OF NOUMEA
A colourful and lively downtown area with a vast selection of European fashion boutiques and gourmet restaurants. You will surely enjoy a drink on a café terrace or a relaxing moment under the beautiful flame trees of "place des cocotiers". The "petit train" can carry you to Port Moselle to engage with the locals at the market.



MUNICIPAL MARKET
Enjoy a colourful moment at the municipal market where you will find fresh local fruits and vegetables, fishes and sea food just caught, and souvenirs and handcrafts.



TJIBAOU CULTURAL CENTRE
Designed by the world renowned architect Renzo PIANO, the iconic centre is a tribute to local Melanesian and Oceania cultures, considered an architectural masterpiece and the reference point for contemporary South Pacific art. Explore the Kanak pathway as well as an impressive collection of contemporary Pacific artwork.



MUSEUMS
Visit the New Caledonia Museum to discover more on Melanesian traditions and way of life and the City Museum to discover the history of Nouméa as well as the Maritime Museum to learn about how James Cook discovered New Caledonia.



AQUARIUM
You will be as if you were in the lagoon with its lagoon fish and its fluorescent corals. A true display of the lagoon richness, you can watch various species.



BOTANICAL GARDENS AND ZOO
There is also wildlife close to the city, at the Botanical Garden and Zoo where you can see the Cagou bird (emblem of New Caledonia) and roussette - (large fruit bat), among other endemic species of New Caledonia. A great way to spend a half day in a lush tropical environment away from the city and a super activity for children who will love the petting zoo.



BEAUTIFUL BAYS
Anse Vata and the Baie des Citrons on the city coastline are the busiest places. Paradise for kite-surfers and windsurfers, the bays are also destinations of choice for families, cyclists and joggers. The Nouméens are sport lovers and right after business hours, exercise enthusiasts flood the beaches.



DUCK ISLAND
Half or full day - This small islet facing Anse Vata beach is truly a tiny paradise. With its rich fauna and flora and the underwater paths with explanatory signs, you'll discover superb multi coloured tropical fish. Light lunch options are available at the island's traditional Kanak thatched hut restaurant surrounded by unique wooden sculptures or laze on the beach for a well-deserved siesta.



AMEDEE LIGHTHOUSE
Full day - Surrounded by crystal clear waters and a coral garden alive with tropical fish, Amédée lighthouse and island is unique. Only a 45-minute boat ride away from Nouméa, you will enjoy snorkelling, walking around the island, touring in a glass bottom boat and much more. For lunch, Polynesian dances and musicians will accompany a delicious tropical style buffet.



CASINOS AND NIGHTLIFE
The Grand Casino next to Le Méridien will entertain players while Baie des Citrons is the place to enjoy live music and the party scene in Nouméa (clubs, bars & restaurants).



TINA GOLF COURSE
This challenging 18-hole golf course is only 15mins driving from Le Méridien Nouméa and offers a fabulous experience for both amateur and seasoned players.